Los verbos modales son una parte fundamental del inglés porque expresan obligaciones, habilidades, probabilidades, sugerencias y mucho más. Entonces, aprender a usar los verbos modales puede mejorar realmente tu nivel de fluidez. Echemos un vistazo para ver qué tienen en común los verbos modales y las muchas formas en que se pueden usar.
¿Qué son los verbos modales?
Los verbos modales son verbos especiales que usamos en combinación con otro verbo. De hecho, la mayoría de los verbos modales no tienen un significado real sin otro verbo. Cada verbo modal describe cómo, por qué o cuándo ocurre una acción. Hay diez verbos modales:
will
would
shall
must
should
ought to
can
could
may
might
¿Cómo hacer oraciones con verbos modales?
Lo bueno de los verbos modales es que todos siguen tres reglas simples para hacer oraciones afirmativas, negativas e interrogativas. Las oraciones afirmativas son las mismas para todos los sujetos con verbos modales, lo que significa que no es necesario añadir -s a la tercera persona del singular: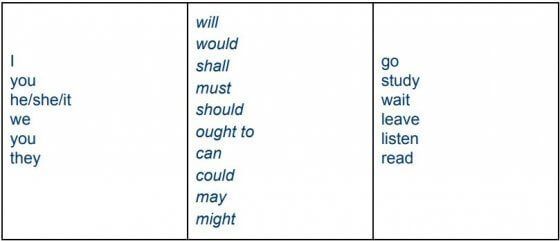 Para hacer oraciones negativas, añadimos "not":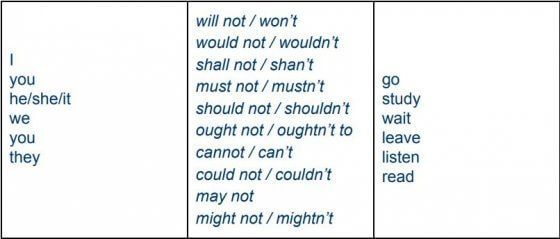 Para hacer preguntas invertimos el sujeto y el verbo modal: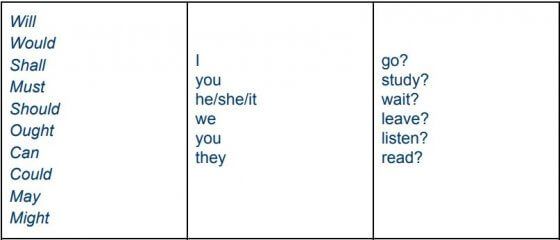 Ahora que ha visto la estructura, veamos las diferentes situaciones en las que usamos verbos modales.
Haciendo peticiones
En inglés hay varias formas de realizar solicitudes y con diferentes niveles de formalidad:

Aquí tienes algunos ejemplos:
Can you open the door for me?
Will you come to my party?
Would you send the material as soon as possible please?
Could you bring us the bill please?
Pedir y dar permiso
También podemos pedir y dar permiso con distintos niveles de formalidad:

Aquí tienes algunos ejemplos:
Excuse me, could we sit here? – Certainly.
Can I get myself a glass of water, John? – Sure, help yourself.
May I wear jeans to the office? – I'm afraid you may not because we have a strict dress code.
Can my kids play here?
Describir habilidades y posibilidades
Hay dos verbos modales que usamos para describir la habilidad: "can" y "could". Usamos "can" para referirnos a habilidades presentes y generales, y "could" para referirnos a habilidades pasadas. Por ejemplo:
Jose can swim really well.
Can they play football? Yes, but not very well.
I can't use Excel. Can you teach me?
They can speak English.
She can meet us at 3:30.
We can do the shopping then have lunch.
When I was younger I could play the piano.
My brother and I could ski as teenagers.
She couldn't do the Maths homework so she asked her friend for help.
They couldn't see much in the fog.
I could hear the thunder even though it was far away.
He couldn't get tickets for the concert because it was sold out.
Haciendo predicciones
Podemos usar una variedad de verbos modales para describir el futuro, dependiendo de cuánto de probable creemos que será el evento o la situación. Por ejemplo:
It will be hot tomorrow. 100% sure
It should be hot tomorrow. 80% sure (According to the weather forecast.)
It may be hot tomorrow. 50% possibility
It might be hot tomorrow. 50% possibility
It could be hot tomorrow. 30% possibility
Here are some other examples:
We might go to the beach this weekend. It depends on the weather.
I think we could win this match but it'll be hard.
Harry should be home by now.
It won't rain this afternoon. Look at the clear blue sky.
They may come round later if they have time.
Describiendo obligaciones
El verbo modal principal que usamos para describir las obligaciones es "must". Podemos usarlo en forma afirmativa para decir que algo es obligatorio, y en forma negativa está prohibido decir algo. Por ejemplo:
You mustn't enter this room without permission.
They must prepare the order by 5pm.
I must start doing some exercise. I'm really unfit.
We mustn't park here. It's forbidden.
Cuando queremos describir una obligación más leve (algo importante pero no necesariamente obligatorio) podemos usar "should". A menudo usamos "should" y "shouldn´t" para dar consejos. Por ejemplo:
He should study a bit more. He's doing ok but he could do better.
You should stop drinking so much coffee.
What time should we leave?
I think we should go at 4pm to avoid the rush-hour traffic.
También podemos usar "ought" y "oughtn't" para describir obligaciones leves, aunque es más común en inglés británico que en inglés americano. "Ought" es el único verbo modal que va seguido de "to", aunque normalmente solo en forma afirmativa. Por ejemplo:
You ought to try this soup – it's delicious!
She ought to make a decision about that house before someone else buys it.
We ought to start the meeting, it's getting late.
They oughtn't ride their bicycles without helmets.
En contextos muy formales, especialmente en forma escrita, también usamos "shall" para expresar una obligación. Por ejemplo:
Guests shall report any damage to the hotel facilities before leaving.
Employees shall not take home office equipment.
The suspect shall remain in custody until the trial.
Haciendo sugerencias
Para hacer sugerencias, podemos usar "can", "could", "shall" y "should". Por ejemplo:
We can have a game of tennis later.
We could meet at 3pm.
Shall we have a drink afterwards?
We should invite Rick and Olga too.
Hacer deducciones
Cuando esté casi seguro de que algo es cierto (o no), puede usar los verbos modales "must" y "can´t". Por ejemplo:
You haven't eaten all day. You must be hungry. (I'm 95% certain.)
He's got three Ferraris. He must be very rich.
You can't be tired. You've just slept all morning! (It's not possible in my opinion.)
They can't be at home yet. They only left five minutes ago!
Hacer declaraciones condicionales
También usamos verbos modales para hacer oraciones condicionales. En el primer condicional podemos usar varios verbos modales:

En el segundo condicional (que usamos para describir situaciones improbables), usamos "would" o "could":

En el tercer condicional (que usamos para describir situaciones imposibles en el pasado), podemos usar "would" y "could":

Como puedes ver, los verbos modales son esenciales para muchas funciones en inglés. Ahora que has visto cómo se utilizan, intenta ponerlos en práctica cuando hables y escribas.
Verbo To Be y To Have
De todos los verbos en inglés, los dos más importantes son el verbo To Be (ser) y el verbo To Have (tener). Son importantes porque los usamos como verbos para muchas situaciones diferentes, y también como verbos auxiliares, por lo que, naturalmente, son los primeros verbos que estudias.
Tiempos verbales en inglés
Una parte importante del aprendizaje de un idioma es poder usar diferentes tiempos verbales. En inglés, hay 13 tiempos verbales, y todos se utilizan diariamente por hablantes nativos.